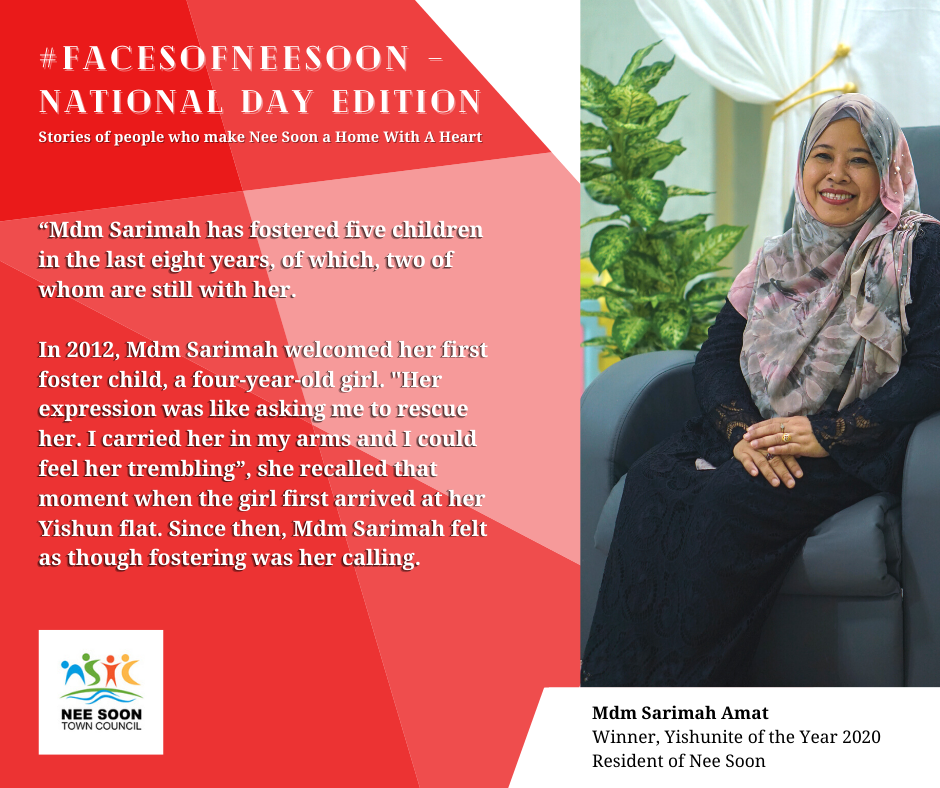 "Initially, it was just to try out fostering. Then, it's not that I fell in love with the process, but I felt it has become my mission," said the 53-year-old Sarimah Amat who was named Yishunite of the Year 2020.
Mdm Sarimah has fostered five children in the last eight years, of which, two of whom are still with her. In 2012, Mdm Sarimah welcomed her first foster child, a four-year-old girl. "Her expression was like asking me to rescue her. I carried her in my arms and I could feel her trembling", she recalled that moment when the girl first arrived at her Yishun flat. Since then, Mdm Sarimah felt as though fostering was her calling.
The following year, she took in a three-year-old boy who unfortunately died from infantile epilepsy that involved several repeated seizures seven months later after he returned to his parents' care. "I was so sad," she continued, feeling like she had lost one of her own children. She pleaded with her foster care officer to let her arrange the boy's funeral and burial for a final goodbye.
However, Mdm Sarimah was undeterred by this experience. In 2014, she fostered another three-year-old boy for half a year, and in 2015 took in a two-and-a-half-year-old boy for five months. In 2016, she welcomed into her home a two-month-old girl who is still living with her.
Her community work does not end there. During the same time, she started a community initiative called Yishun 71 to help vulnerable seniors and needy families in 16 blocks in her estate. Services provided by this initiative include delivering food, and taking them for health check-ups. She has also helped orphans in Thailand and Indonesia and organised relief efforts for flood victims in Malaysia.
Mdm Sarimah's passion for nurturing children and watching them grow started during her days as a kindergarten teacher and silat instructor, before a serious knee injury forced her to stop. When she stumbled upon a Facebook post with a quote from the Prophet Muhammad: "The best of homes are where orphans are taken care of.", she knew it was a sign that she was doing the right thing. Her fostering journey is fully supported by her husband and three grown-up children.
For her efforts, Mdm Sarimah was recognised as the inaugural Yishunite of the Year last year. The second installation of the Yishunite of the Year 2021 is upon us. Organised by Nee Soon Town Council, this award seeks to recognise Nee Soon GRC residents who have contributed to the community and embodies the spirit of service and giving.

If you know of anyone who fits the criteria, nominate him/her by www.nstc.org.sg/yoty21 so that his/her story can inspire more to give back to our community, a Home with a Heart.