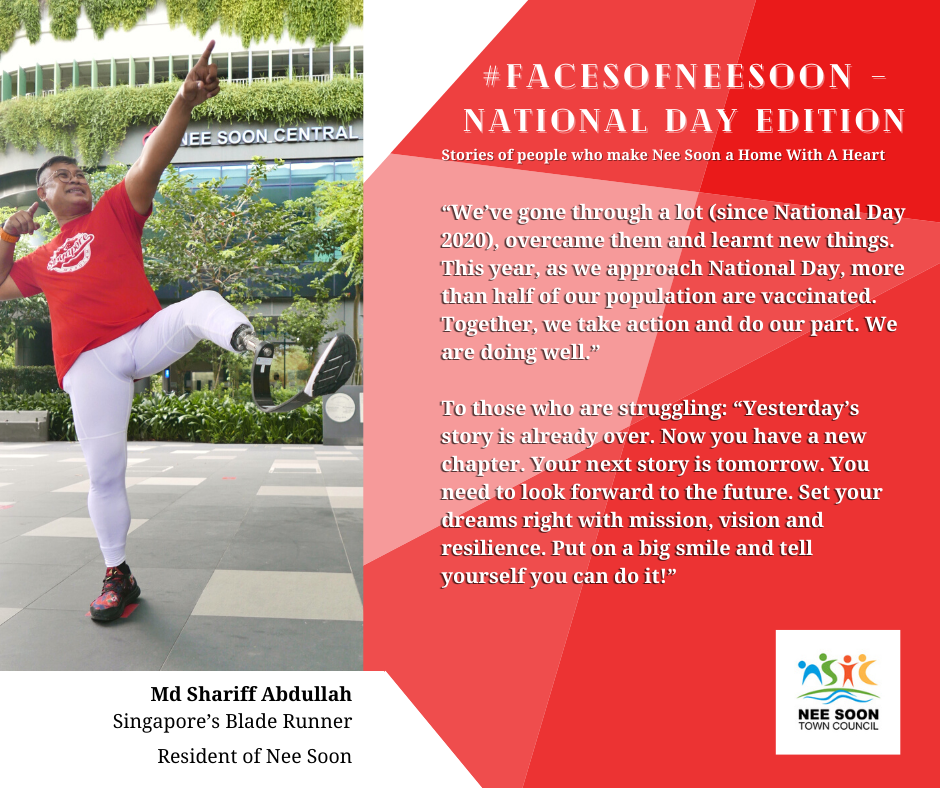 Born without a left foot, Md Shariff Abdullah, also known as Singapore's Blade Runner, harbours a love for adventure that inexorably led him to running. After an amputation in 2008 that left him hopeless, Shariff dug deep to find new life again. The optimistic para-athlete now has 29 marathons and 6 ultramarathons under his belt.
It does not take mere inspiration to achieve such a feat, as we find out. It takes discipline, lots and lots of it. Even during a pandemic, Shariff keeps the momentum going and details exciting plans to celebrate Singapore's 56th year of independence.
There had been some memorable marathons for Shariff – his first marathon, the Standard Chartered Singapore Marathon, in 2009; the Boston Marathon in 2013, when the bombing happened; Mount Everest in 2016; and the North Pole in 2018. But, his National Day run last year was special.
"Every year I want to do something for National Day. Last year was a bit tough because of the pandemic situation," Shariff said. When his plans for an overseas run was hampered, he and a small group of friends ran from Block 745 Yishun St 72 to Our Tampines Hub for a total of 55 km, stopping to honour frontliners at Yishun Community Hospital and Khoo Teck Puat Hospital.
This year, he leads a 56 km walk that passes by all five Nee Soon divisions. "On 21 August, at 12:30 a.m., Yishun residents will walk with me from Nee Soon Central Community Club to Nee Soon East, followed by Chong Pang, Nee Soon South and Nee Soon Link. From there we will proceed to Punggol, Tampines and East Coast Park before ending the walk at the Padang," Shariff revealed. Following Phase 2 (Heightened Alert) measures, the group, comprising only vaccinated individuals, will be walking in pairs.
The endearing kampung spirit is what keeps Shariff in Yishun for 22 years, and he does not plan on moving anytime soon. Neighbours greet him with "Brother, how are you", or in Hokkien "Jiak Ba Buay" (have you eaten) and "Ho Boh" (how are you). The community cheers him on during his runs. The MPs for Nee Soon GRC, too.
Not only is the running community in Yishun a close-knit family, the town's physical landscape also facilitates Shariff's training. Shariff says "believe it or not, you can create a half marathon route in Yishun". He also finds respite in scenic locations such as Yishun Pond, his "solving problem area" and "healing place".
"If you walk or jog one round, it is about 1 km. There is not much traffic; it's quiet. I can think about what kind of problems I am having, what kind of actions I need to take. The solution will come to me during the run," he explained.
Going through seemingly insurmountable setbacks in life, in hindsight, has enriched Shariff's life. Prior to the pandemic, he would visit hospitals, offering patients hope and encouragement, and participate in charity runs. He currently volunteers with Nee Soon Central Zone 5 Residents' Committee and Yellow Ribbon Singapore.
Shariff, who also works at a quarantine centre, hopes to send an encouraging message of resilience to all frontliners battling the COVID-19 pandemic. "We've gone through a lot [since National Day 2020], overcame them and learnt new things. This year, as we approach National Day, more than half of our population have been vaccinated. Together, we take action and do our part. We are doing well."
To those who are struggling, he urged: "Yesterday's story is already over. Now you have a new chapter. Your next story is tomorrow. You need to look forward to the future. Set your dreams right with mission, vision and resilience. Put on a big smile and tell yourself you can do it!"