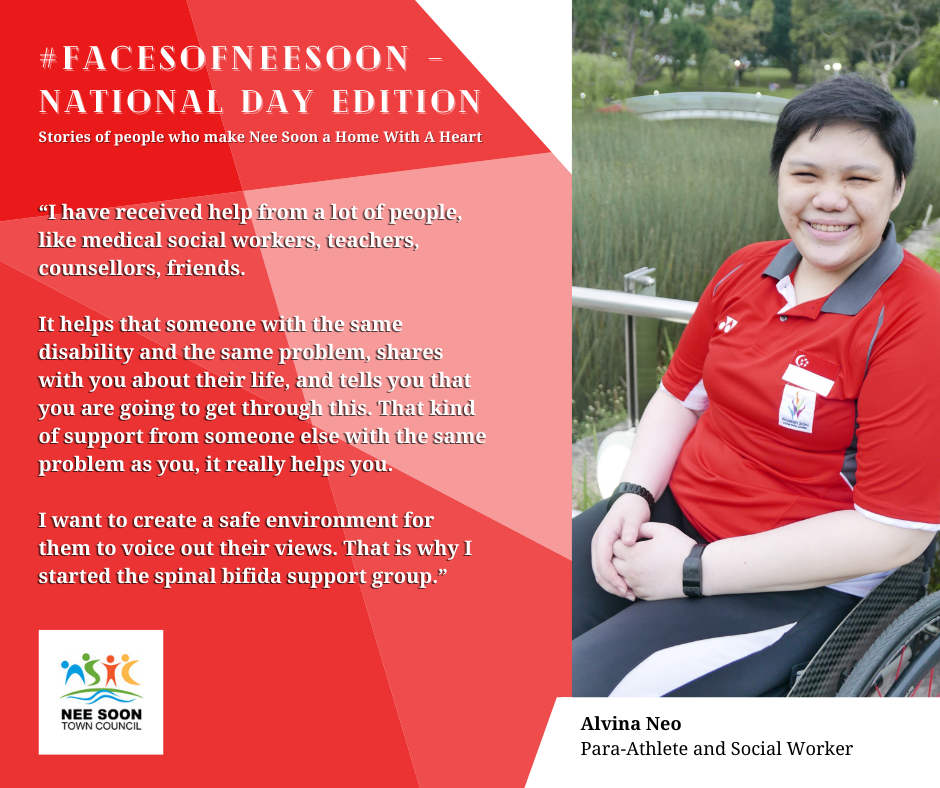 In the Asian context, there seems to be a stigma surrounding the people born with spina bifida — a congenital disorder that causes the incomplete development of the spinal cord.
"I have gone through many obstacles, like going for multiple surgeries, being bullied in school. You kinda learn from every single obstacle, and once you cross that obstacle, you tell yourself you are better than that" said the 32-year-old hand-cyclist, air pistol shooter at the Asian Para Games 2014 and the Asean Para Games 2015 respectively.
Known for her undeterred spirit, Alvina Neo said that she had to thank her parents for not treating her as a disabled child. Growing up, she was taught that when she falls down, she has to get up by herself, and if she fails in her exams, she just has to study hard. This spirit of grit and resilience was especially evident when she dislocated her shoulder in the midst of competition at the Asian Para Games 2014 in Incheon.
It was the fourth of her six laps in the cycling women's 48.6km road race. Alvina did a routine to propel her hand-bicycle forward and up a sudden steep slope and saw her left shoulder pop out of position. "I wasn't dead, nor was I dying. The third and only other option was to continue the race and just finish it…I didn't care if I came in last or if my timing was not good. I just wanted to finish the race," Alvina recalled, now as a matter-of-factly but confessed that she was then devastated when a race official stopped her from completing the race.
Even though the rehabilitation process was one of the toughest obstacles Alvina has ever faced so far, she refused to let her condition and other obstacles dictate what she can do in sport, and in life. She turned to air-pistol shooting, because only one arm is needed to fire the weapon. Like always, she trained hard and within 4 months, she improved to a personal best (PB) score from 190 to 367. Alvina was excited to be one of 10 debutants in the 11-strong Singapore shooting squad as a national para shooter at the Asean Para Games in 2015. A "village in the city" concept saw athletes and officials housed in Marina Bay Sands (MSB) Hotel official games village because of its ability to cater to people with special needs, as the para shooting competition was held at SAFRA Yishun.
A sudden twist in events saw Alvina moved from official games village to National University Hospital. "I basically downgraded from MBS to NUH, and pretty much stayed there throughout the Games", Alvina jokes, feeling sorry that she did not get to enjoy her staycation at MBS Hotel. On a serious note, despite battling high fever which developed as a result of a sudden infection, Alvina went on to win a bronze medal for P2 10m air pistol SH1 in the women's category.
On top of her achievements in para games, Alvina is also active in community work. "I want to create that awareness that anybody and everybody can do something, but you have to put in that effort," said Alvina, her face full of determination. She set up a support group for people with spina bifida.
"I have received help from a lot of people, like medical social workers, teachers, counsellors, friends. It helps that someone with the same disability and the same problem, shares with you about their life, and tells you that you are going to get through this. That kind of support from someone else with the same problem as you, it really helps you. I want to create a safe environment for them to voice out their views. That is why I started the spina bifida support group," Alvina explained.
Professionally, Alvina is a social worker at a Family Service Centre. In her work, she also hopes to advocate for more empathy and compassion for people who are differently-abled, and that they are also people with dreams, passions and a zest for life. She frequently spoke up against people who made cruel comments targeted at Persons with Disabilities (PWDs).
"Once, I was helping a person with visual impairment get to my block and a group of elderly ladies commented they didn't know if it was the cripple helping the blind or the blind helping the cripple," she recalled. "I turned to them and said 'at least I'm helping out, and you're the ones with two (working) arms and legs."